Do you manage to cook fresh three times a day and cover your protein requirements optimally? Very few people have enough time for this in their everyday lives. In fact, 20% of Germans only cook fresh food once a week or less. However, nutrient deficiencies and their health consequences are also widespread for other reasons. You can fill nutrient gaps and prevent deficiencies with a supplement routine. With a sufficient protein intake, you can optimally stimulate your muscle protein synthesis and maximize your muscle growth.
In addition to our organ systems, substance classes such as nutrients play a crucial role, as they control our metabolism and enable our organs to function. Micronutrients and minerals are an essential building block of our body. Vitamins, minerals and trace elements contribute in varying amounts to different functions, such as the formation of bones and teeth, the regulation of electrolyte balance and the function of the immune system.
Which ESN supplements do you need?
Here you will find a rough overview with the most important information about the ESN supplement repertoire: starting with level 1, a sensible basis for all people, through to vital substances for specific groups of people. As the need for vital substances is highly individual depending on the person, it is difficult to make generalized statements at all other levels. The target group may vary, the reasons for supplementation are diverse - but one thing remains the same: You can only meet your needs if you regularly take in the necessary nutrients and proteins over the long term.
Here you can see our supplement pyramid from Urs Kalecinski, our Mr. Olympia Classic Physique athlete. This serves as a good basis for your supplement selection.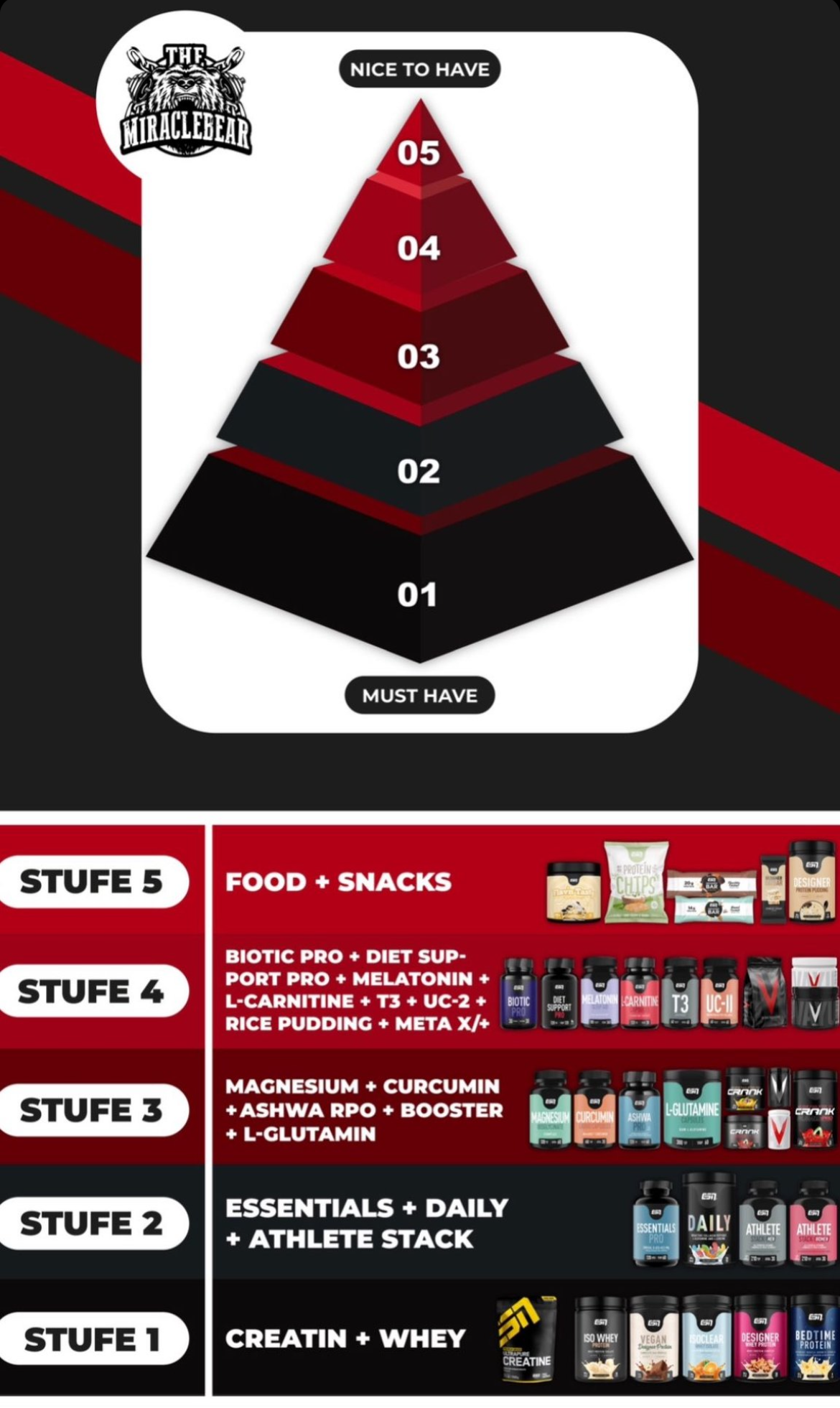 Depending on your personal goal, you can move along the different levels of the pyramid. It is not absolutely necessary to be at level 4 if you are only a hobby athlete. However, if you are a competitive athlete or would like to strive for this goal, level 1 will not be enough. It is and remains an individual decision.
Important: You don't necessarily need our products to achieve your goals. But they will make it easier for you to get there and provide you with the best possible support to realize your vision.
Level 1 - Must have
Optimal stimulation of protein synthesis and more strength during training. The cornerstone for your success in the gym and for achieving your top form! It is also important for endurance athletes and non-athletes to cover their protein requirements sufficiently.
In our protein comparison you can find out everything about our protein powders and their effects. The timing of your protein-rich meals is also important for success in sport. You can find all the information you need in our protein spikes article.
Creatine is the best-researched dietary supplement on the market. Ultrapure Creatine Monohydrate is the optimal support for bodybuilding, strength and fitness sports. Creatine increases physical performance in high-speed strength training and during short-term, intensive physical activity. The vegan, highly soluble powder can be ideally prepared in water, juice or in a shake.
Level 2 - The foundation
Essentials, Daily and Athlete Stack
If the foundation is not stable, you can't build a house on it. Micronutrients and minerals are an essential building block of our body. Vitamins, minerals and trace elements contribute in varying amounts to different functions, such as building bones and teeth, regulating the electrolyte balance and the function of the immune system. With these three products you are already well positioned.
Essentials
Essentials combine the four essential nutrients omega-3, vitamin D3, vitamin K2 and magnesium in one product, so that you can provide your body with the ideal nutrition and thus create the health basis for optimum performance and regeneration: Essentials Pro supports your heart, your brain, your muscles and your bones.
You save yourself a product from level 1, because the daily creatine intake becomes a delicious morning routine to fill the creatine store in the muscle and to have enough adenosine triphosphate (ATP) ready for training and performance, as well as to be able to call up full cognitive performance.
Daily provides you directly with collagen peptides, which form building blocks for joints, tendons and cartilage and provide you with the optimal supply to build and maintain resistant passive structures for long-term success. Daily also provides an extra daily dose of glutamine to support the gut, immune system and improve recovery
With leucine & glutamine you get a direct initial stimulation of muscle protein synthesis to maximize muscle hypertrophy right in the morning and get you ready for the next protein meal
With our Athlete Stack, you get everything in one capsule - anytime, anywhere.
With so many products on the market to cover your vitamin and mineral needs, it can be easy to get bogged down and unknowingly miss out or overdose on an important nutrient. We have the solution to this problem: our Athlete Stack. One capsule contains all the essential vitamins as well as minerals and trace elements individually selected for athletes that your body needs for its vital functions.
In short: with vitamin C, vitamin B12, potassium, zinc, copper and more, you'll have more power in your everyday life, as your body has an optimal mix of nutrients - adapted to your physical activity and gender! All in one capsule sounds pretty good, doesn't it? With just seven capsules a day, you can cover your needs and get by for a whole month with one pack. No more carrying around countless different doses!
Level 3 - Performance
Magnesium, curcumin, Ashwa Pro, pre-workout booster and L-glutamine
The human body performs better under certain conditions. It is important to know your individual conditions and to adapt your diet, training and supplement selection accordingly. There is no formula for success that can be applied to everyone.
The muscle contraction you need for any form of exercise is regulated by calcium and magnesium, among other things. Calcium binds to proteins such as troponin C and myosin. These processes change the shape of the proteins, which in turn leads to a contraction. Magnesium can bind to the same binding sites as calcium, but in order to relax the muscles.
Curcuma root is a plant from the ginger family that is said to have many positive properties. Curcumin has an anti-inflammatory effect and promotes your regeneration. It has been valued for thousands of years in the cultures of India, China and Asia, where it is used in traditional health teachings and in Aryuveda. It is even considered a sacred plant in South East Asia and India.
Chronically elevated cortisol levels can have negative effects on health. Apart from the fact that you should always try to avoid excessive stress and get enough sleep to stay healthy and productive in the long term, you are not at the mercy of your inner restlessness and constant tiredness. You can find out more about cortisol in our excursus below.
Our Ashwa Pro is a combination of high-quality anti-stress nutrients that help your body to control your stress and energy levels, and ashwagandha root extract as an adaptogen.
Many successful athletes and competitive sportspeople use a pre-workout booster in their nutrition plan to get the most out of their training. A better pump and increased focus can help to improve your training and give you a boost even on less motivated days.
But which booster do you need for which purpose? Some people prefer a strong pump and can't sleep if they consume too much caffeine in the evening. Others have no problems with caffeine and need the focus to really get going. The differences between the various pre-workout boosters are explained below.
Our booster comparison shows you all the functions of the various ESN boosters.
Glutamine is one of the body's most important amino acids and a building block of muscle tissue, which the body needs for protein synthesis. If you already consume Daily, it may not be necessary for you to consume additional glutamine. This depends on your individual needs.
Level 4 - The finishing touches
Biotic Pro, Diet Support Pro, Melatonin, L-Carnitine, UC-II Collagen, Rice Pudding and Meta X
Do you have big goals and want to get the most out of your body? It needs fine-tuning to optimize your performance. This level is no longer of interest to amateur athletes. Whether you want to improve your digestion, optimize your sleep or push your diet as best as possible, the following products will help you specifically.
Biotic Pro provides four probiotic human bacterial strains in a dosage of at least 15 billion bacteria that are capable of living, multiplying and colonizing. The human bacterial strains improve your digestion and nutrient absorption. You also have no problems such as diarrhea, flatulence or bloating. 70-80% of the immune system is located in the intestine, which is improved by Biotic Pro. You will get sick less and if you do get sick, you will recover more quickly.
Our Diet Support Pro is the support you need to stick to your diet and reach your goal. The specially selected active ingredients give your body power from the inside and support you with the typical side effects of dieting so that you achieve success faster and better.
Melatonin has several important functions in the body. The best known is its role in sleep and the circadian rhythm, but the most important is probably its role as an antioxidant. Another fascinating feature of melatonin's structure is that not only can it neutralize a variety of free radicals, but it can also convert into several other antioxidant molecules afterwards, essentially making melatonin a four-in-one antioxidant.
This high-quality capsule supplement is a perfect addition to the diet, especially for athletes who do not eat carnitine-containing foods such as meat and dairy products. L-carnitine is a non-essential amino acid, which means that the body can produce it itself. The main function of L-carnitine is to help the body produce energy - and it plays an important role in muscle movement, as well as the normal functioning of the heart and brain.
UC-II® undenaturated type 2 collagen + vitamin C is a patented type II collagen with vitamin C that contributes to normal collagen formation for healthy cartilage function.
If you look at current data from the Robert Koch Institute (RKI) on the incidence of osteoarthritis, you will see that sooner or later almost half of women and almost a third of men have excessively worn joints.
According to the Study on the Health of Adults in Germany (DEGS1), even at a young age (18 to 29), one in ten people already has joint pain - from the age of 65, the figure is over 40%. The shoulders and knees are most frequently affected, with worn joints being the most common cause.
This is precisely why you should take care to supply your joint cartilage with important nutrients from a young age so that healthy cartilage function is maintained for as long as possible. Because once the cartilage is worn out, there is no going back.
VAYU Instant Rice Pudding is the ideal source of energy for any bodybuilder or fitness enthusiast. The special form of rice combined with sufficient protein (e.g. Designer Whey or Vegan Designer Protein) and a perfect flavor (Designer Flavor Powder) can be prepared quickly and has a unique taste. The quick and easy preparation in particular benefits many athletes. This also makes it easier for "bad eaters" to get their calories in.
The Rice Pudding can be ideally consumed as a pre-workout meal before training (approx. 1 hour before) or as a post-workout meal after training (up to 1 hour after). This gives you the optimum energy supply either during training or promotes your regeneration and replenishes your glycogen stores that have been depleted during training.
Meta X can maximize your energy levels and calorie consumption and give you exactly the support you need to achieve your goal. Meta X supports you during diet phases and has its origins in competitive sports.
Level 5 - Nice to Have
The top level of our pyramid contains all products that you are guaranteed not to need for your success, but which can make your diet or off-season easier. Also included here are all the nice to have products such as bars, puddings etc., which may also be of interest to the average consumer. Listed below are a few of our most popular products:
Conclusion
Depending on your personal goal, you can move between the different levels of the supplement pyramid. It is not absolutely necessary to be at level 4 if you only do hobby sports. However, if you are a competitive athlete or are aiming for this goal, level 1 will not be enough. It is and remains an individual decision. A coach can be an advantage here, who will assess and select this with you. Before you consume all possible vital substances, have a blood count done by your doctor to prevent deficiency symptoms and adjust your vital substances to your individual needs.
Quick reminder: You don't necessarily need ESN products to achieve your goals. However, they will make it easier for you to get there and provide you with the best possible support to realize your vision.