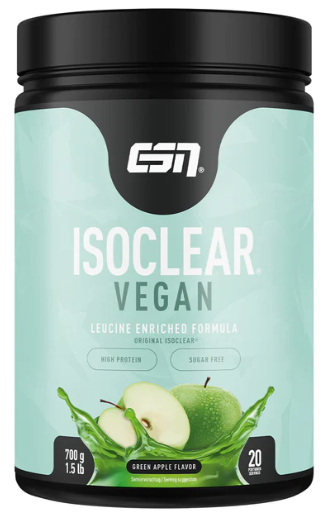 ISOCLEAR Vegan. Yes, that's right, our fruity, clear protein soda bestseller ISOCLEAR is now also available in a vegan version. And what can we say? Fruity, refreshing, clear and unbelievably tasty, our vegan protein miracle can not only shine with taste, but also with a complete amino acid profile.
Key Facts
Our clear alternative to the creamy protein shake
High protein content
Fat and sugar free
Complete amino acid profile + L-Leucine for optimal muscle protein synthesis
Without animal ingredients
In fruity delicious variety
Yes that's right, we did it and created our first vegan and clear protein soda: Fruity, clear, full of protein and with a complete amino acid profile for optimal muscle protein synthesis stimulation. Speaking of amino acid profile, our ISOCLEAR Vegan has been supplemented with L-Leucine, one of the most important essential amino acids for athletes.
100% taste
Depending on the variety, this vegan protein shake tastes like a soda, an iced tea or a juice. You provide your body with a fruity clear refreshment and at the same time with valuable and high-quality proteins, to be exact with up to 22 g protein per shake. And the best part? Thanks to the special production process, our ISOCLEAR Vegan is free of sugar and fat and therefore ideal for all those who want to eat consciously, want to cover their protein requirements easily or simply feel like a refreshment. What are you waiting for? Juice up your Proteins!


FAQ ISOCLEAR Vegan
Are the nutritional values of Vegan ISOCLEAR correct?
Yes, the values are correct. Leucine has been added to Vegan ISOCLEAR to enhance its anabolic potential, which is not listed under any of the macronutrients, but still provides calories. The same goes for malic acid and citric acid.
For every 100 grams, there are 361 kcal, 4.8 grams of carbohydrates and 64 grams of protein.
Since protein and carbohydrates have 4 kcal per gram, they add up to only 275 kcal, which is a difference of 86 kcal from the stated amount. This difference is due to the leucine, malic acid and citric acid.