ESN proteins are not only a convenient way to increase your protein intake, they can also have some health benefits - whether it's fueling muscles while building muscle, dieting, or positively affecting blood lipid levels and lowering blood pressure.
Between all the different ESN proteins, it's easy to get lost in the shuffle. Often many questions arise about the ESN proteins.
Protein Shake before or after training?
At what time do I need which ESN protein?
Which ESN protein is lactose-free?
Are the ESN proteins vegan?
How quickly is the protein absorbed by the body?
Whether Designer Whey, ISOCLEAR, Designer Bedtime Protein, Iso Whey, Vegan Designer Protein, or the ISOCLEAR Vegan. All ESN proteins have their raison d'être with very specific benefits.
For example, the Whey concentrate is created through ultrafiltration - a process in which liquid Whey is pressed through a filter and then dried. Whey isolate, on the other hand, is obtained through crossflow microfiltration - a particularly gentle filtration process. The difference therefore lies in the different filtration processes and accordingly also in the nutrient profile, i.e. in the protein, fat and lactose content.
In addition, the ESN proteins also all have a different absorption rate.
The figure below summarizes all the important differences of the ESN proteins.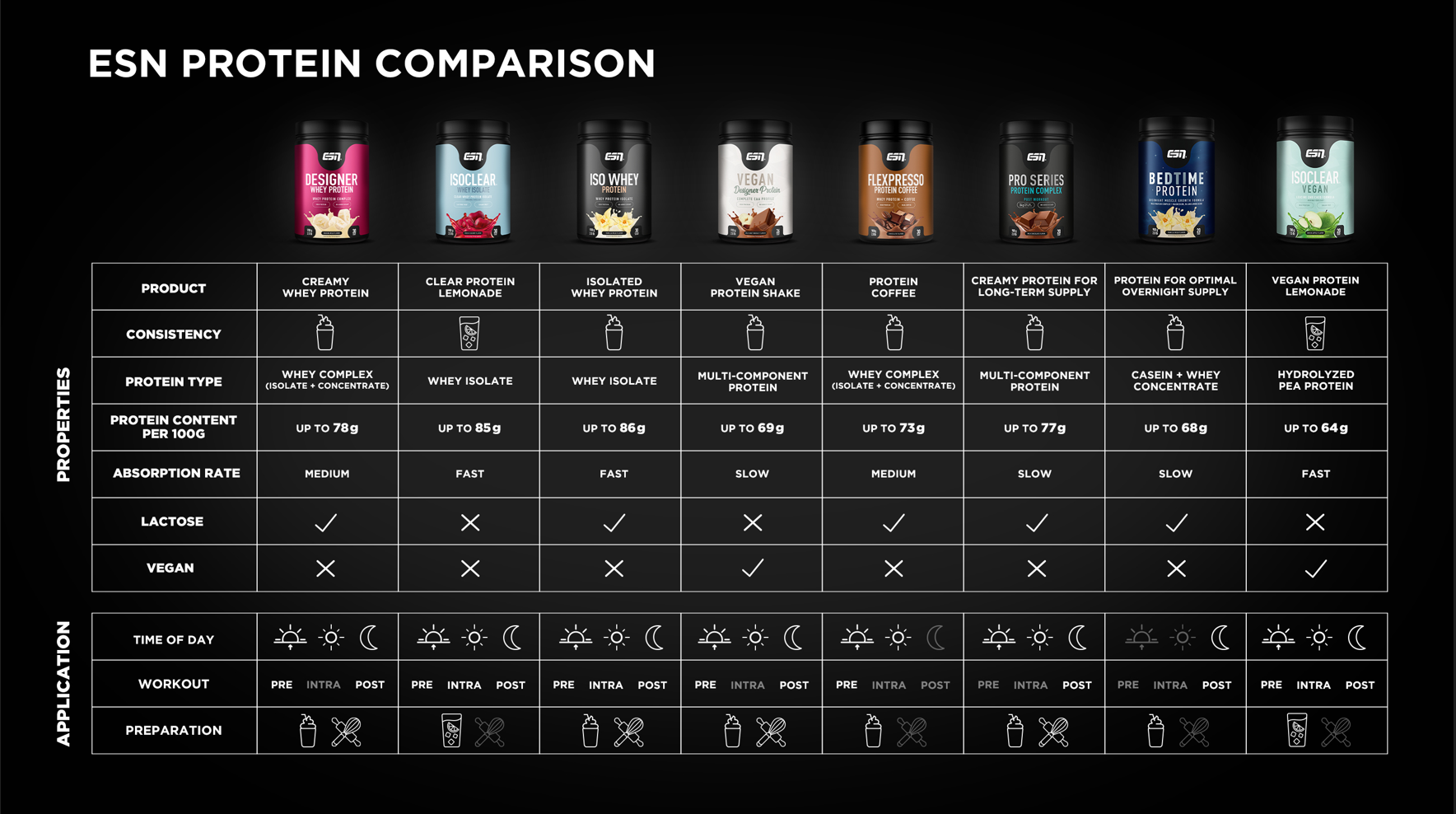 Short Reminder: Proteins support you in building muscles, but also in maintaining them, e.g. when you are on a diet, and also contribute to a longer saturation. We recommend that you consume 1.5 g to 2 g of protein per kg of body weight daily.