Almost every second person has joint pain on a regular basis and likewise almost every second person even suffers from joint disease in old age. Both lead to restrictions in mobility and thus also in overall performance in training and in everyday life.
That's why our interdisciplinary team of nutritionists, physicians, sports scientists and coaches developed Solid Joints.
Solid Joints provides two scientifically proven, effective and truly unique active ingredient complexes for acute and preventive support of particularly stressed and resilient joints.
1. the Anti-Pain Complex from Curcuma-, Pine Bark and Frankincense Extract as well as Palmitoylethanolamide effectively reduces inflammation and pain.
2. the Built-and-Repair Complex of UC-II®, hyaluronic acid, silica and essential micronutrients provides the specific ingredients needed to help build bone and cartilage structure.
So joint pain doesn't keep you from achieving your goals.
How is Solid Joints taken?
Solid Joints is a capsule product that can be taken at any point during the day.
One serving equals 3 capsules, which should be taken with plenty of water and ideally not on an empty stomach.
Why was Solid Joints developed?
Solid Joints was born from the desire of our athletes to develop a supplement that takes into account the special challenges of their joints, which are particularly stressed by sports.
A supplement that works acutely against stress-related pain and movement restrictions, but also preventively makes the joints more resilient and keeps them healthy.
How does Solid Joints work?
The result of unique ingredients is Solid Joints: A product based on the concentrated know-how and experience of our team and specifically tailored to the needs of athletes. Below you can learn more about the effects of each ingredient in Solid Joints.
Curcuma root extract
The plant curcuma belongs to the ginger family and is probably known to everyone as an ingredient in curry.
Turmeric and the curcuminoids it contains have anti-inflammatory and antioxidant effects on the body.
This is reflected in the results of a 2021 systematic review that examined the results of RCT clinical trials of curcuma for the treatment of osteoarthritis of the knee.
It was shown that curcuma resulted in significant pain relief and functional improvement in the knee as opposed to placebo. There are a full 500 mg of curcuminoids per serving in Solid Joints, which have been clinically proven to show positive effects on joint health!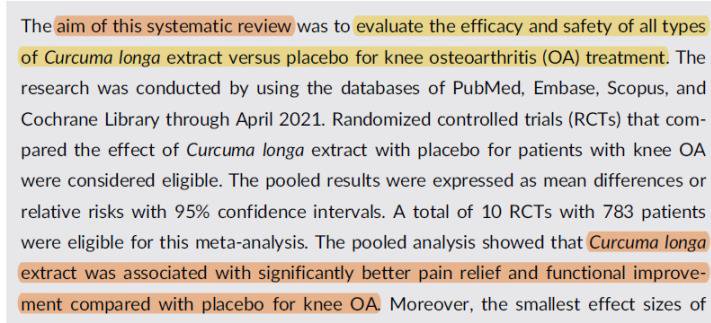 Frankincense extract
Frankincense, which is extracted from the Boswellia tree, has its origin in Ayurvedic medicine, where it has long been used as a healing agent.
In frankincense there is the active ingredient boswellic acid, which is able to inhibit a pro-inflammatory enzyme (namely 5-lipoxygenase).
The anti-inflammatory effect of frankincense extract has been shown in studies to effectively reduce pain and improve mobility in patients with osteoarthritis (Sengupta et al., 2008; Vishal et al., 2011).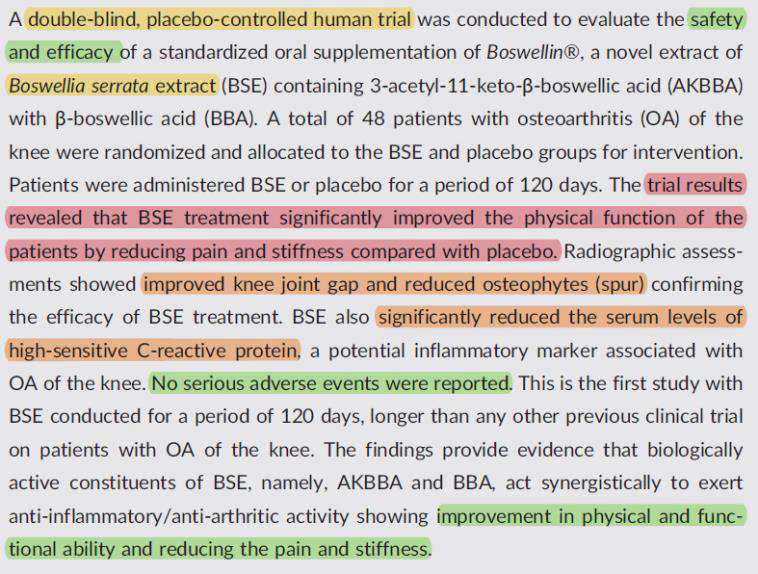 In the 2019 RCT study by Majeed et al, frankincense extract significantly improved knee joint functionality, reduced osteophytes (bone outgrowths), and reduced inflammation levels (serum C-reactive protein in this case).
Palmitoylethanolamide (PEA)
PEA is an endogenous substance, a so-called fatty acid amide, with an endocannabinoid-like structure.
PEA can therefore bind to the body's cannabinoid receptors and relieve pain before it reaches the nerve cell. In a very recent meta-analysis, PEA was shown to be an effective and safe treatment for relieving chronic pain (including joint pain), as well as an effective substance for reducing inflammatory processes in another study (Clayton et al., 2021).

Pine Bark Extract
Pine bark extract is a concentrate of plant polyphenols, among which procyanidins are the most important.
Pine bark extract is characterized by the wide spectrum of action in the human body, so that it has also been proven in clinical studies for the treatment of pain, such as joint health.
The effects include the inhibition of the macrophages (=immunofress cell) collagenases (=enzymes that can break down collagen) to be able to release into the tissue, reducing the "destructive" effect on cartilage. Furthermore, the anti-inflammatory effect is also attributed to the inhibition of the NFκB signaling pathway, as well as cyclooxygenases I and II (→ same mode of action as in certain painkillers), thus causing symptom relief in mild to moderate osteoarthritis.
In addition, pine bark extract can promote blood circulation, which on the one hand improves the supply of nutrients to poorly perfused tissues (including tendons and cartilage) and on the other hand can also positively influence vascular problems caused by restricted movement in joint problems (Belcaro et al., 2008, Farid et al., 2007).
Pine bark extract has thus been shown to have a positive effect on 1) symptoms and limitation of quality of life, 2) inflammatory processes of OA, 3) muscular performance, and 4) vascular problems.
Bamboo Leaf Extract (Silicic Acid)
Bamboo leaf extract contains silicic acid, which is a source of silicon and is an important mineral for muscles, bones and joints. Silicon is the third most abundant element in the human body after iron and zinc, with a total amount of 1 to 2 grams.
Joints/cartilage undergo a constant process between building up (anabolic) and breaking down (catabolic) processes.In the case of excessive joint wear, catabolic processes predominate and there is insufficient renewal of cartilage tissue.
Silicon is one of the necessary components of bone and cartilage metabolism, as it is essential and must be supplied through the diet. In this context, silicon is mainly involved in the synthesis and stabilization of collagens and extracellular matrix and can have positive effects on bone density, i.e. our body skeleton (Jugdaohsingh, 2007). In addition, silicon promotes the absorption of other essential minerals for bone metabolism, such as copper, calcium, and magnesium, among others (Arora et al., 2017).
Hyaluronic Acid
Hyaluronic acid is a large polysaccharide found in many tissues, including most commonly in cartilage and synovial fluid.
A review was able to show through randomized controlled trials that hyaluronic acid delivery leads to a decrease in inflammatory processes via binding to TLR-4 receptors, which may contribute to symptomatic improvement in osteoarthritis (Oe et al. 2016).


Undenatured Collagen (UC-II®)
UC-II® is an innovative and patented collagen raw material that is completely undenatured and naturally contains valuable type-2 collagen.
Type-2 collagen is able to stimulate the body's immune cells in the joint to produce bioactive anti-inflammatory cytokines (messengers). These messengers effectively reduce inflammatory processes. Another special function of undenatured collagens is the stimulation of the joint's own type-2 collagen synthesis, which thus ensures the maintenance and build-up of articular cartilage.
In various gold standard clinical studies over the last few years (placebo-controlled, randomized and double-blind), undenatured type 2 collagens alone have been shown to significantly improve joint pain and joint mobility in healthy people with weight-bearing joint problems during sports and even in people with osteoarthritis.
UC-II® stimulates the body's own synthesis of articular cartilage. Thus, it counteracts degradation and can even regenerate cartilage material to a certain extent.



Significant improvement in knee mobility for activity-related joint pain - especially from age 35.
Piperine
Black pepper extract, also known as piperine, is the main active ingredient in pepper. Piperine has been shown in some studies to increase the absorption and bioavailability of important nutrients from the gut e.g. curcumin, which is why it has been integrated into Solid Joints. This can ensure that the ingredients are better absorbed and can act effectively.


Vitamin C
Vitamin C is an important and limiting factor in collagen synthesis. A deficiency of vitamin C makes for poor cartilage structure. It is true that on average we consume sufficient vitamin C, but it is often forgotten that vitamin C, as a water-soluble vitamin, has a half-life of only 13 hours.
In addition, it is involved in many processes of the body, including those that are essential for survival, which are naturally served preferentially in the case of insufficient supply. Collagen synthesis is one of the less important processes.
Considering that intensive physical stress, such as sports and also infections, increase the vitamin C requirement many times over, it becomes clear relatively quickly that, to be on the safe side, a small amount of vitamin C should be supplemented together with collagen.
Trace elements for optimal metabolic and repair processes
Solid Joints also contain the essential trace elements zinc, copper and manganese. This makes sense not only from a joint-specific point of view, because trace elements are involved in numerous enzymatic and antioxidant metabolic and repair processes.
Zinc is immensely important as a regulatory component of more than 100 enzymes and is required as an indispensable factor for a functioning immune system. In addition, zinc is essential as a component of various enzymes involved in collagen synthesis and re-synthesis, such as collagenases.
Copper plays an important role for many enzymes, is involved in redox reactions and contributes to a healthy energy metabolism. As a co-factor, it is also involved in collagen synthesis, so it can contribute to the maintenance of normal connective tissue.
Manganese is an essential co-factor for e.g. superoxide dismutase (antioxidant enzyme) for cell protection and involved in energy metabolism. Another function is as a co-factor of glycosyltransferase, which is needed to form building blocks for cartilage and bone. Therefore, manganese also contributes to normal healthy bone structure and connective tissue formation, which is why adequate amounts of manganese must be provided daily through the diet.
The result is Solid Joints: a product based on the concentrated know-how and experience of our team and tailored specifically to the needs of athletes.
FAQ Solid Joints
Is Solid Joints vegan?
No. Solid Joints contains collagen and is therefore not vegan.