General information
We have created the ideal snack that provides you with valuable energy whenever and wherever you need it - before training, a competition or simply in between. After your workout, our Designer Oatbar even helps you recover.
Our delicious oat-based power bar
Ideal energy and regeneration support
With complex carbohydrates
Super soft, fudgy consistency
With a fine coating
Ideal for on the go, before and/or after training
The Designer Oatbar as a source of energy
The Designer Oatbar made from valuable oats is the perfect, quick source of energy for high performers. In the handy 100 g format, you can quickly supply your body with energy from complex carbohydrates whenever and wherever you need it - before and / or after training, a competition or simply as a snack between meals. The Designer Oatbar helps you to cover your calories during your off-season and also to get a few calories down quickly.

Oats - Energy
Energy? Valuable oats? That's right, 100g of full energy is waiting for you in the Designer Oatbar. As a long-chain carbohydrate source, oats provide you with immediate energy, e.g. for intensive training. But that's not all, because it also helps you recover after an intensive strength session.
Carbohydrates help to restore normal muscle function (contraction) after high-intensity and/or prolonged exercise that has led to muscle fatigue and depletion of glycogen stores in skeletal muscles!

Thanks to the unique recipe and a special baking process, our Designer Oatbar has a super soft, fudgy consistency. The coating, e.g. of fine chocolate or yoghurt, completes the oat bar masterpiece.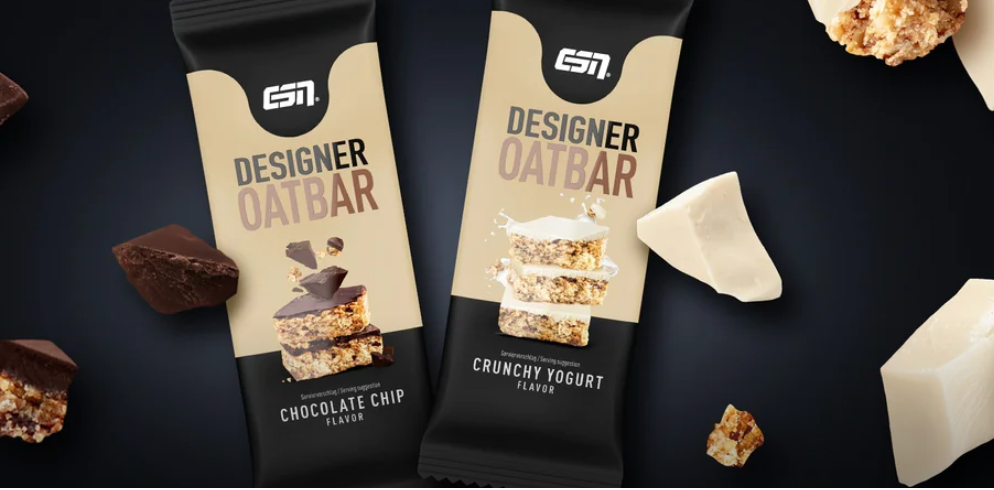 FAQ Designer Oatbar
Are the Designer Oatbars vegetarian / vegan?
Yes, the ESN Designer Oatbars are vegetarian. The Designer Oatbar Chocolate Chip is even vegan.