Ultrapure Creatine Monohydrate
Micronized Creatine Monohydrate Powder
Ultrapure Creatine Monohydrate consists of a very fine and high-quality Creatine Monohydrate powder. The fine, micronized consistency of the Creatine powder ensures optimal absorption. The Creatine inspires with its premium quality and high degree of purity.
Creatine is a molecule that the body produces itself from the amino acids glycine and arginine. Creatine is also contained in foods such as meat or fish, which means that it can be absorbed in small amounts through everyday food. If you are a vegetarian or vegan, you will most likely have less creatine in your body if you do not currently take it in the form of a supplement. In the form of creatine phosphate, it plays an important role in cellular energy production as it is involved in the formation of ATP - the main source of cellular energy.
In the muscles, about 95% of the creatine supplied is stored in the form of phosphocreatine. The remaining five percent is available for the liver, brain and kidneys. Research has found that increased phosphocreatine storage in the brain can improve the health of the latter and prevent neurological diseases.
Increase performance
Ultrapure Creatine Monohydrate is the optimal support in bodybuilding, strength and fitness sports. Creatine increases physical performance in high-speed strength training and during short-term, intense physical activity. Due to the increased supplies of Pospohocreatine, your body can produce more ATP, which in turn allows you to perform better during exercise.
Increased ATP production allows you to work harder, which in turn allows you to achieve more volume in a single training session. This, in turn, is the key factor in your long-term muscle growth.
Satellite cells, which are responsible for repairing your muscles, also receive better signals, so recovery and building of your muscles is faster.
Furthermore, some studies have shown, for example, that strength gains can be increased by an average of about ten percent during a strength training program.
Key Facts
Simply mix into water, juice or the protein shake
Suitable for vegans
High purity: dihydrotriazine guaranteed below the analytical detection limit
Good solubility thanks to microfine powder consistency
ESN Ultrapure Creatine is a high-quality, tasteless, microfine powder and capable of increasing physical performance during short, high-intensity periods.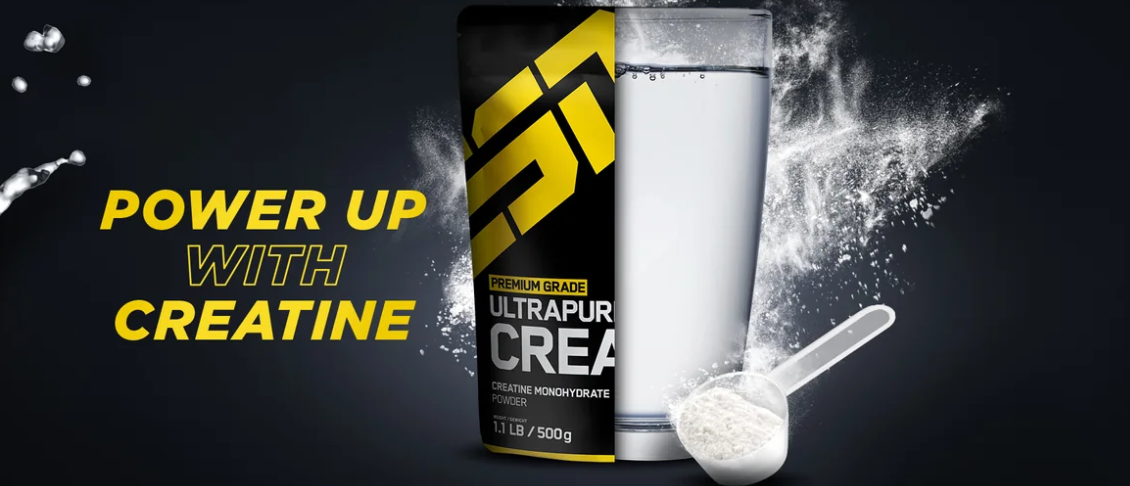 FAQ Ultrapure Creatine Monohydrate
How is creatine manufactured?
Our creatine is produced exclusively through chemical synthesis involving sarcosinate and cyanamide as raw materials, which is considered the most effective and safest production method in the industry. We guarantee that our creatine is free of contaminants.
Is a measuring spoon included?
In our Ultrapure Creatine Monohydrate is a measuring spoon included. But you can also dose your amount super with a teaspoon. A heaping teaspoon is equivalent to about 5g.
What are the differences in ESN Creatine?
All creatine products have the same mechanism of action. Differences are entirely due to their solubility in water or method of consumption.
Ultrapure Creatine Monohydrate is our best-selling creatine product. Both the price and quality are unbeatable. With a mesh factor greater than 200, this is a highly soluble fine-grain creatine product guaranteed to be as pure as it comes.
Creapure® Creatine Monohydrate is a branded form of high-quality creatine found in some of our mixed products (e.g., ESN Tank Up). It is highly soluble with a mesh factor greater than 150, and is produced by Alzchem Trostberg GmbH in Germany.
Creatine Giga Caps are Ultrapure Creatine Monohydrate in capsule form, for easy and convenient dosing, especially when traveling.