UC-II® undenatured type 2 collagen + vitamin C is a patented type II collagen with vitamin C that contributes to normal collagen formation for healthy cartilage function.
If you look at recent data from the Robert Koch Institute (RKI) on the prevalence of osteoarthritis, you'll find that sooner or later nearly half of women and nearly one-third of men have excessively worn joints.
Even at a young age (18 to 29), according to the Study on the Health of Adults in Germany (DEGS1), one in ten already has joint pain - from the age of 65, it is over 40%. The shoulders and knees are most frequently affected, with worn joints being the most common cause.
That's exactly why you should take care of supplying your joint cartilage with important nutrients at a young age, so that healthy cartilage function is maintained for as long as possible. Because once the cartilage is worn down, there is no turning back.
Vitamin C - The cofactor for your joint cartilage
Collagen formation is essential for healthy cartilage function. It has been scientifically proven and confirmed by the European Food Safety Authority (EFSA) that vitamin C contributes to this as an irreplaceable cofactor for collagen synthesis. A lack of vitamin C causes poor elasticity in the skin, bones and even cartilage. In addition, vitamin C helps protect your body cells from oxidative stress.
UC-II® undenatured type 2 collagen
Collagen accounts for the largest share of human protein content at around 30%. It provides functionality, elasticity and strength to connective tissue, bones and even cartilage. However, not all collagen fits every part of your body. According to the current state of science, 28 different types of collagen are known.
Types I, II and III account for up to 90%. Collagen type II is the fiber-forming form, which is mainly found in hyaline and elastic cartilage tissue. The hyaline cartilage tissue is what is particularly relevant for the joints. It provides the pressure elasticity and smooth surface.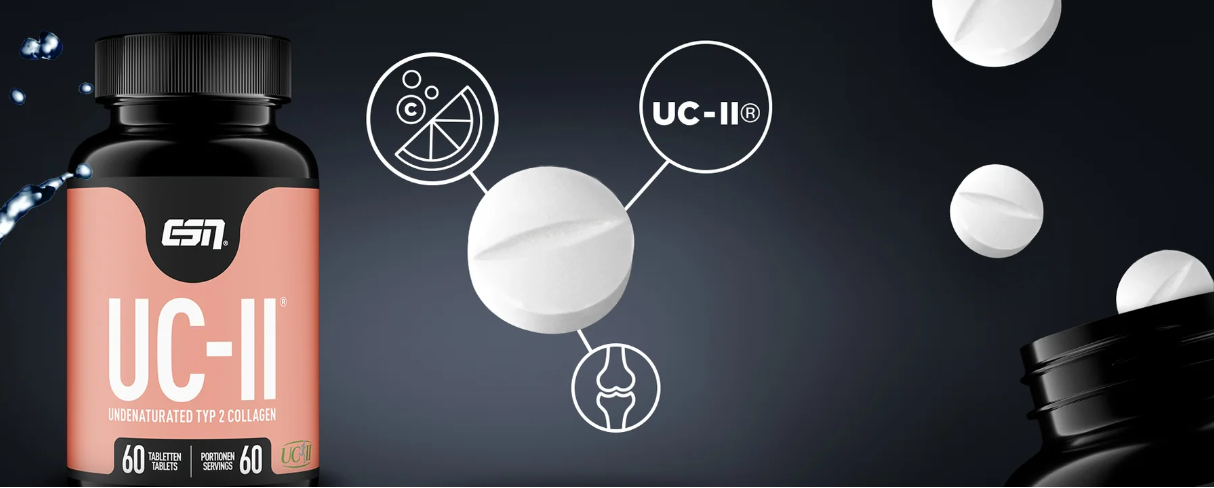 FAQ UC-II Type 2 Collagen
What is the UC-II Type 2 Collagen manufacturing process?
Since UC-II is patented, the exact manufacturing process is unknown. It is extracted from the cartilage tissue of the sternum of chicken and then processed via a patented process at low temperature, without enzymatic alteration, so that it remains wholly undenatured and bioactive. It is a high-tech raw material.
How should I take UC-II Type 2 Collagen?
Take 1 tablet daily with plenty of liquid (300 ml water) preferably with a meal.