General information
The microbiome includes all microorganisms (bacteria, fungi, viruses, etc.) in the body and, as a complex system, makes an important contribution to our health. It produces messenger substances to regulate metabolism, influences digestion and forms part of the immune system in the organism. The community of microorganisms is a fragile system that only functions properly when its composition is balanced.
The microbiome can be disturbed by internal and external factors, so that the microbiota can be miscolonized with pathogenic bacteria and, for example, digestive problems can occur. These factors include stress, poor eating habits, but medications such as antibiotics also have a negative impact on the microbiome.
Bloating, flatulence, irregular bowel movements, unpleasant odors - these are all symptoms that disturb well-being and lead to discomfort and suffering. Digestion is a topic that, despite today's openness, is still associated with feelings of shame and taboo. And this despite the fact that, according to Statista, over 50% of people experience gastrointestinal complaints in the form of flatulence or diarrhea at least once a month and around a third suffer from bloating.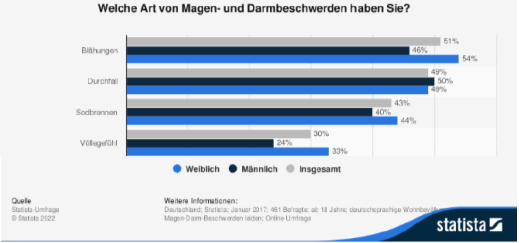 In a survey of the German population alone, 13% of 2050 people reported flatulence and 13% reported abdominal pain in the 7 days prior to the survey. There are many reasons for this.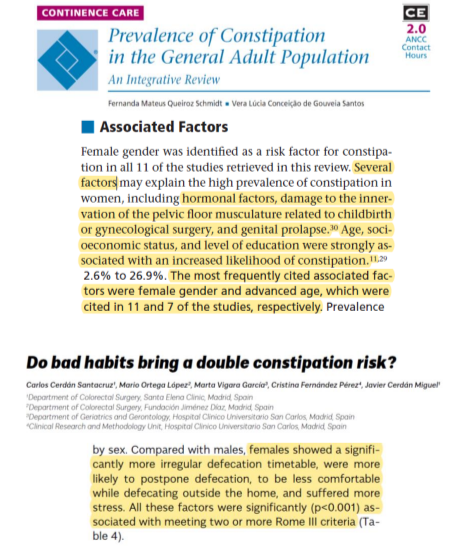 What influence do antibiotics have on the microbiome?
The use of antibiotics for bacterial infections also plays a major role in the occurrence of digestive complaints. An analysis of antibiotic use from 2009 showed that 31% of women and 25% of men took antibiotics at least once during the year.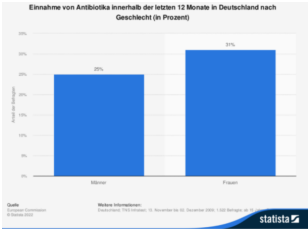 Unfortunately, there is no more recent data available for Germany, but internationally there has been a sharp increase in antibiotic consumption of around 65% in recent years.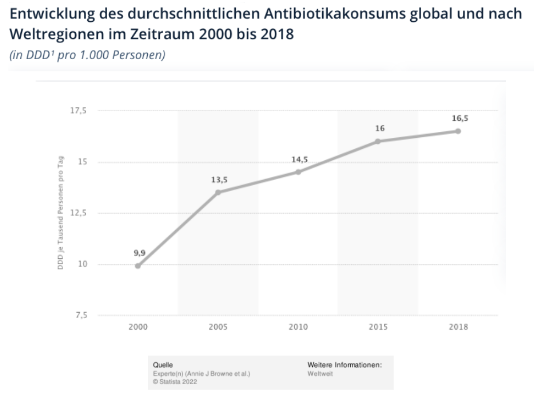 In addition to the desired treatment of a bacterial infection, however, a large part of the healthy intestinal microbiome (dysbiosis) is also destroyed, resulting in a weakening of the immune system, digestion and well-being with digestive complaints. In one study, twelve healthy young volunteers were given antibiotics and the microbiome was observed and examined for 6 months. After antibiotics were administered and the microbiome was destroyed, it took a total of 6 months for the intestinal flora to gradually return to normal.
Some bacterial species could not be restored. Current study reviews come to the conclusion that after approx. 1.5 months only a basic colonization of the intestinal flora has been restored, but even 6 months after antibiotic intake, some bacterial strains were no longer permanently present - i.e. the diversity of the intestinal flora was permanently damaged. For this reason, it is important to provide the body with the best possible supply of probiotic bacteria during/after taking antibiotics and to support the regeneration of the microbiome.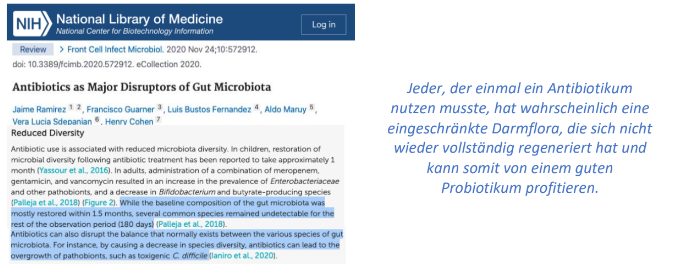 Biotic Pro functional complexes
Biotic Pro is a 2 in 1 product that was developed on a scientific basis with one of the world's best probiotics researchers. It is composed of proprietary bacterial strains whose digestive and immune system functions have been confirmed in gold standard clinical studies.
Biotic Pro contains a high-dose probiotic complex (15 billion colony-forming units (CFU)) that has been shown to help support digestion and restore gut flora.
The microbiome can be disrupted by external influences such as antibiotics or an unhealthy diet, which can lead to the displacement of beneficial bacterial strains, a weakened immune system and resulting gastrointestinal symptoms (e.g. antibiotic-induced diarrhea and Clostridium difficile-induced diarrhea). As a result, pathogenic bacteria and fungi can colonize the intestine and pollute it with harmful metabolic products and cause illness.
The probiotic complex for digestion consists of the scientifically documented strains B. lactis Bi-07TM, B. lactis Bl-04®, L. acidophilus NCFM®, L. paracasei Lpc-37® and has a positive effect - proven in gold standard studies - on the restoration of the microbiome even after antibiotics have been taken. Human studies have shown that the combination of probiotic strains shortens the duration of dysbiosis and accelerates and supports the restoration of the intestinal microbiome.
A positive effect on the preservation of beneficial bifidobacteria within the microbiome was also observed. In the randomized, triple-blind, placebo-controlled clinical trial (gold standard), the dose-response relationship of the probiotic combination (B. lactis Bi-07TM, B. lactis Bl-04®, L. acidophilus NCFM®, L. paracasei Lpc-37®) was also investigated in a total dosage of 4.17*109 (low dose) to 1.7*1010 (high dose) in 503 subjects. Results: The incidence of antibiotic-related side effects was significantly reduced by taking the drug.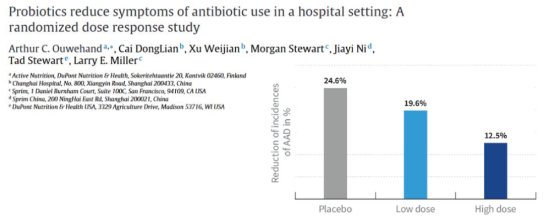 And even if antibiotic-related side effects did occur (as the intestinal flora was severely disturbed), the duration was significantly reduced.
In addition, significant positive effects on digestive complaints were observed:
Significant reduction in abdominal pain (p<0.001)
Significant reduction in flatulence (p=0.01)
Significant reduction in fever (p=0.02)
Significant reduction in the incidence of C. difficile-related diarrhea (p=0.02)

Complex: immune system
In addition to the importance of the effects on digestion, probiotics also play an important role in relation to the immune system. This is because 70-80% of the immune system is "located in the intestinal microbiome".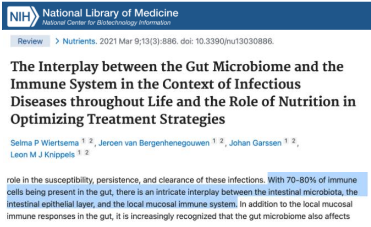 In a double-blind, randomized and placebo-controlled study (gold standard), the effect of supplementation with the specific probiotics Bl-04®, NCFM® & Bi-07® on respiratory and gastrointestinal diseases was investigated in healthy, active men and women. Results:
Significant reduction in the risk of upper respiratory tract infection (-27%) in subjects supplementing with Bl-04® (p=0.022)
Shorter duration of upper respiratory tract infections (-1 day) in the subjects supplementing Bl-04®, but not statistically significant as the distribution of the duration of illness of the different subjects was too broad (p=0.25)
Significantly more training volume (+9%) in the subjects who supplemented NCFM® & Bi-07® (p<0.003)
Reduction in risk of gastrointestinal disease (-24%) in subjects supplementing Bl-04®, CFM® & Bi-07®, but not statistically significant as too few subjects experienced gastrointestinal disease during the study period (p=0.12)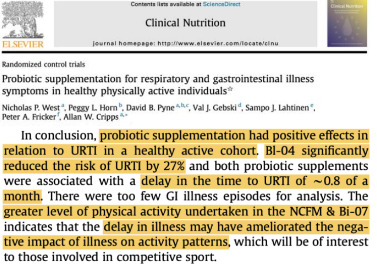 Dr. Arthur Ouwehand
The Biotic Pro was developed with one of the best probiotics researchers in the world. It provides 4 probiotic human bacterial strains that have been tested in clinical studies for efficacy and safety in a dosage of at least 15 billion viable, reproducible and colonizable bacteria. The bacterial strains contained can...
improve digestion and nutrient absorption (better absorption of nutrients (including protein) and therefore less diarrhea, constipation and flatulence);
strengthen the immune system and thus reduce the risk (24 to 27%) and duration of infections (respiratory tract, gastrointestinal tract) and thus enable more training volume (+9%). This in turn can lead to more effective muscle building and better performance. Biotic Pro is particularly suitable for athletes who have problems with digestion (bloating, flatulence, diarrhea, constipation) and susceptibility to infections.
Why Biotic Pro?
The microbiome in the gut is constantly influenced and can be thrown out of balance by external and internal factors. The result is a so-called dysbiosis.
Factors that can unbalance the microbiome include, in particular, diet (too little pro- and prebiotic food) and medication (antibiotics).
Dysbiosis of the intestinal flora can lead to poor nutrient absorption/utilization, which manifests itself in irregular digestion and bloating.
Once the microbiome is out of balance, it cannot easily restore itself, as bacteria must be supplied from outside in sufficient quantities for colonization.
Once important bacterial strains have disappeared from the microbiome, they do not simply form again. If even unhealthy (pathogenic) bacterial strains have colonized, the healthy bacterial strains find it even more difficult to colonize again and / or are displaced.
Biotic Pro ensures better nutrient absorption and therefore more regular digestion, less flatulence, a strong immune system and, as a result, better performance.
It has been shown that the bacteria can colonize and multiply in the intestinal flora (even during and after antibiotic use) and thus rebalance the microbiome and reduce susceptibility to respiratory infections (common in athletes) and duration and thus increase the average weekly training capacity.
What makes Biotic Pro unique?
Biotic Pro was developed with one of the world's top probiotic researchers based on gold standard clinical studies. Biotic Pro is the only probiotic on the German market to provide a complex of 4 probiotic strains and at least 15 billion colony-forming bacteria per daily dose with a clinically proven positive spectrum of functions in the areas of digestion and the immune system, especially for athletes.
Biotic Pro thus even combines 2 products (probiotics for digestion and immune system) and is dosed many times higher than other products in this area, whose bacterial strains do not even have clinical studies.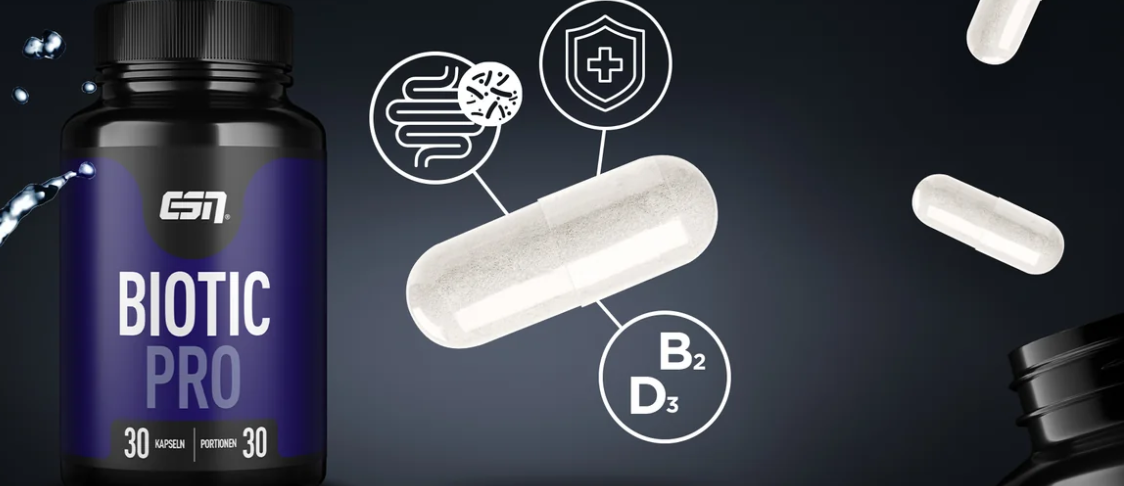 FAQ Biotic Pro
Who is Dr. Arthur Ouwehand?
With Dr. Arthur Ouwehand, we have literally brought a pro on board for the development of Biotic Pro. Not only does he work as an associate professor at the University of Turku in Finland, he is also one of the top five probiotics researchers in the world and has been working in the field for over 30 years. Arthur Ouwehand currently works as a Technical Fellow for Int. Flavors and Fragrances.
Are Biotic Pro strains temperature sensitive?
Almost all probiotics are temperature sensitive, although the degree of sensitivity depends on the manufacturer and the type of probiotic. Biotic Pro are very stable at a temperature of up to 25 °C and have a shelf life of around two years below this temperature. Accordingly, they do not need to be refrigerated, but should be stored in a cool, dry place.
Can I open the Biotic Pro capsules and take the powder?
Yes, you can open the capsule and mix the powder into your food.
Why do we recommend taking Biotic Pro with a meal that contains prebiotic fiber?
Biotic Pro supplies the intestines with various beneficial bacteria. These bacteria need to feed, and prebiotic fibers are their preferred food source as they stimulate the growth and multiplication of the exclusively beneficial bacteria.
It is not yet known whether the immediate combination of probiotics and prebiotics has a better effect than taking the same supplements at different times of the day, so we recommend taking them together as a precaution. Of course, taking probiotics and prebiotics separately is better than not taking them at all.
An easy combination, whether taken together or at different times of the day, is to take Biotic Pro with Skyr and Fav'n Tasty, as the inulin is a prebiotic (one of the best researched).
Are there any interactions with the contraceptive pill?
No. There are no interactions with contraceptive pills.
Can neurodermatitis be aggravated by Biotic Pro?
Neurodermatitis is a chronic skin disease that is aggravated by inflammation. It is unlikely that Biotic Pro will cause a negative interaction. You can consider reducing inflammation levels by taking Essentials Pro and Curcumin Liquid Capsules in consultation with your doctor.
Is Biotic Pro only suitable for humans or is the intestinal flora of e.g. cats/dogs so similar to that of humans that positive effects can also be expected?
As Biotic Pro is a human probiotic from the human microbiome, it has only been tested on humans. For this reason, no general statement can be made for animals. However, we have received reports from customers who have successfully administered the More Biotic probiotic from More Nutrition to their pets at a reduced dosage (e.g. half a capsule). It is unlikely that taking the product has any negative effects on pets, although this cannot be ruled out. However, as there has only been positive feedback from the community so far, you can definitely test Biotic Pro in small quantities.